Donate
Neurodiversity Pathways is a social impact program of Goodwill of Silicon Valley located in San Jose, CA. As a champion of the unemployed and underemployed, Neurodiversity Pathways helps neurodivergent individuals overcome hiring obstacles and achieve their fullest potential as professionals in the work environment.
Our

Workplace Readiness Program

prepares neurodivergent individuals for today's workplace by providing them with the skills needed to secure meaningful, rewarding, and lasting employment.

Our

Workplace Integration Services prepare companies to become leaders in diversity and inclusion by providing services that guide the organization as they fully integrate neurodiversity into the fabric of their workplace and culture.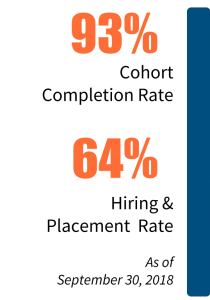 Over the last two years, we have conducted five workplace readiness program sessions with an average of eight students per cohort. The overall completion rate for these five cohorts is 93% and we have placed 64% of our alumni in hiring companies throughout the country. We feel confident that our mission is vital and our approach has meaningful traction.
We are now focused on scaling our operations and intensifying our impact over the next three to five years. Some of our key goals for this time period are the following:
Expand the team in terms of functional talent and numbers so the program can champion and empower more neurodivergent individuals while extending its reach and assistance to a broader group of organizations undertaking the journey to neurodiversity inclusion.

Have access to a location that is more conducive to the learning experience of our neurodiverse clients by taking into consideration particular sensitivities and sensory requirements.

Extend our geographical and physical presence to reach individuals and organizations beyond Silicon Valley and the Bay Area.

Grow the program's scope to include support for neurodivergent individuals in a variety of life stages — both as they enter college and as they exit college into the workplace.  
To accomplish this growth and significantly broaden our social impact, we need to raise $1M by April 2019 and an additional $1M by the end of 2019. Please accept our sincere gratitude for your donation.
Goodwill of Silicon Valley is a 501(c)(3) nonprofit organization. Your contribution is tax-deductible to the extent allowed by law. No goods or services were provided in exchange for your generous financial donation. Please keep this written acknowledgment of your donation for your tax records. Please consult with your tax advisor or the IRS to determine value of your tax deductible contribution. Thank you for your contribution.