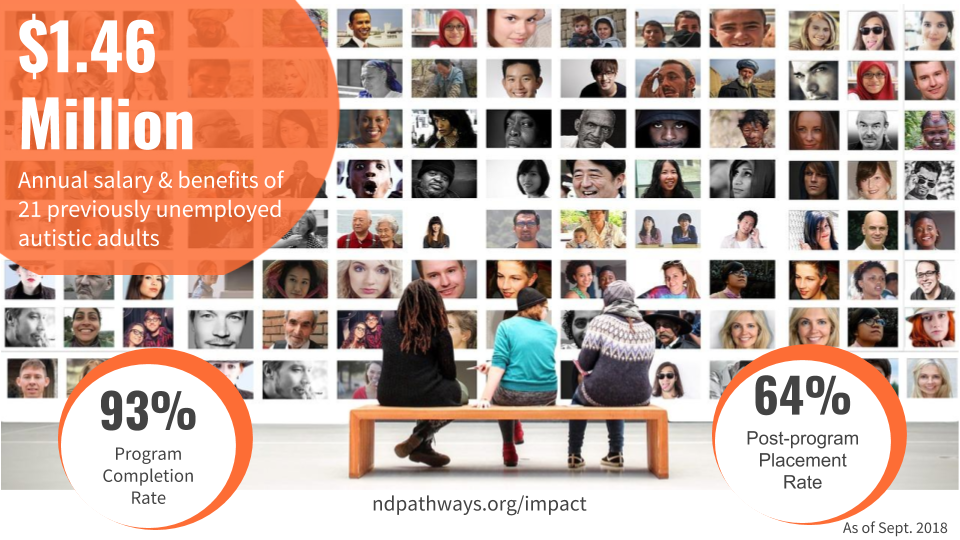 Our Workplace Readiness Program provides neurodivergent individuals with the skills and support for succeeding in their employment search, workplace assimilation, and career growth. Over the past two years, twenty one (21) program alumni have launched their careers and are now part of many workplaces making $1.46M in annual salary and benefits. 

We have some exciting news to share with you! 
We have received a very moving letter from a couple who has offered to match donations made to Neurodiversity Pathways. While the donors are requesting to remain anonymous, they believe strongly in our mission and are personally grateful for the impact our program has made in their lives and the life of their son.
As parents of an autistic child, they were concerned about their son's future. Would he find rewarding and sustained employment? Would he be able to live an independent life? How would he realize his potential and live his fullest life?
Well, today their son has full-time meaningful employment, is living independently, and is proud to be a taxpaying citizen. His parents attribute his success to our program and services.
The couple has offered to match dollar-for-dollar every individual donation, up to a total of $25,000. The matching challenge begins now and continues through November 16, 2018.