Our Goals
To address the growing demands of the program and to scale and intensify our impact (see Making A Difference section below), we are pursuing the following goals:
Create and expand our online presence to reach more and more individuals, partners, and hiring organizations beyond the San Francisco Bay Area.
Enhance the learning experience of our program participants by continuing to upgrade our curriculum and technology.
Accelerate the employment placement rate of neurodivergent individuals and grow our relationships with hiring organizations by expanding the functional talent of the Neurodiversity Pathways' team.
Grow the program's scope to include support for neurodivergent individuals in a variety of life stages, including as they enter the college.
Your Support
Your support helps make more and more neurodivergent individuals reach their fullest potential and be seen, heard, and known in the workplace.  
There are many ways you can support our mission.
You can SPONSOR ONE STUDENT fully to take our Online Workplace Readiness Program with $1,500.
You can PROVIDE ONE SCHOLARSHIP to cover the 20% down payment for our Program with $300.
Or, you can SUPPORT OUR MISSION in general and enable us to work toward our goals above and continue to make a difference (see below).
Education and Employment Funnel
Each year in the US, about 67,000 autistic children turn 18. Sixty percent or about 40,000 have no or only a mild level of intellectual disability. They are capable of higher educational and employment outcomes. Only about 23,000 enter a 2 or a 4 year college and most of them do not disclose their disability to the college. Of those that disclose, about 2,600 graduate with an Associate or bachelors degree. We do not know how many graduate without disclosing. Nor do we know how many of them end up in paid employment. What we do do know is only 14% of all autistic adults have a paid employment in a community integrated setting.
Our Program Impact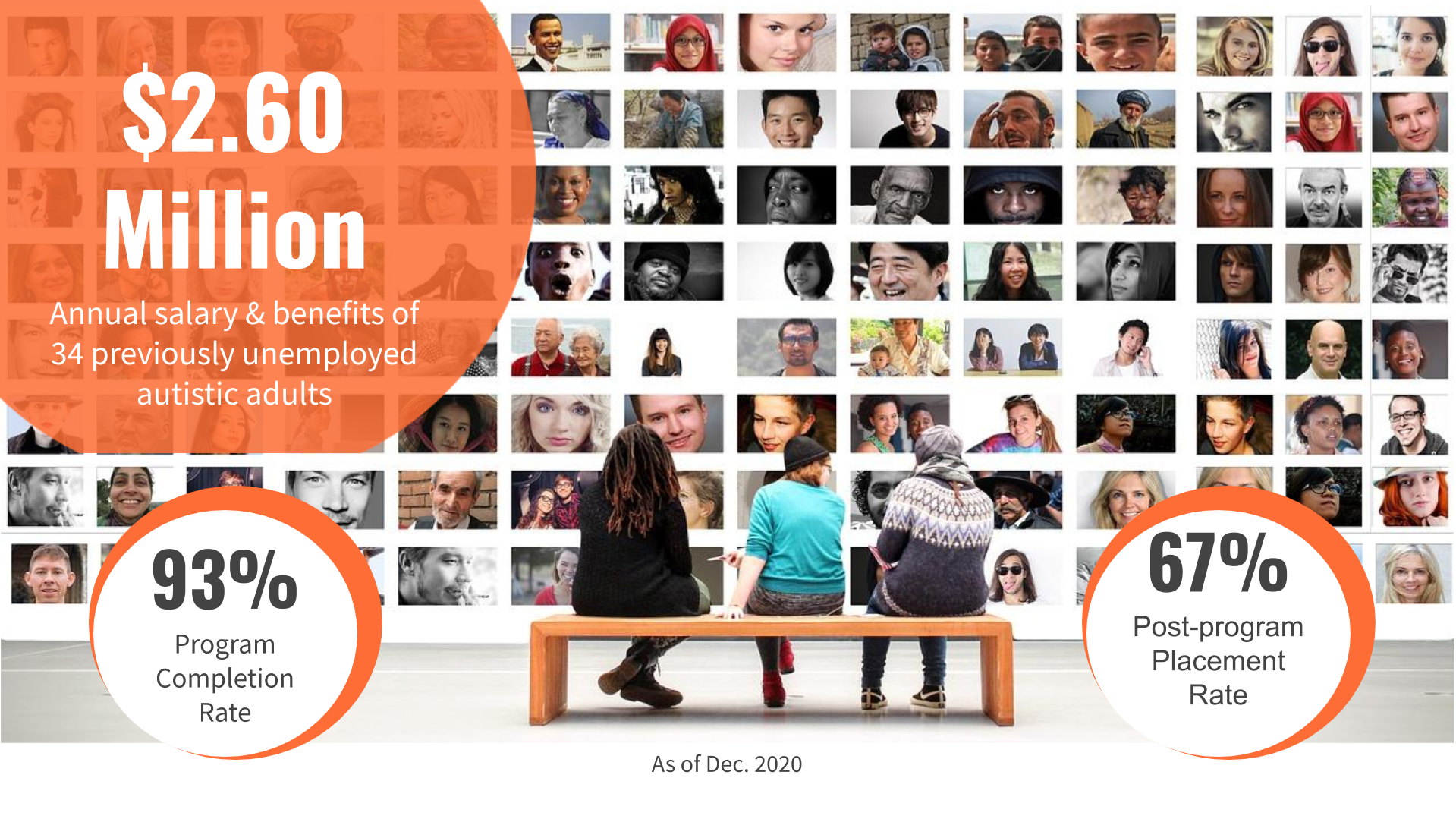 Over the last three years, we have conducted multiple workplace readiness program sessions with an average of seven students per cohort. The overall completion rate for these cohorts is 93% and we have placed 67% of our alumni in hiring companies throughout the country. We feel confident that our mission is vital and our approach has meaningful traction.
Neurodiversity Pathways is a social impact mission service of Goodwill of Silicon Valley, which is a 501(c)(3) nonprofit organization. Your contribution is tax-deductible to the extent allowed by law. Thank you for your contribution.